She Travels Free – New Mexico
Our Luxury for Loyalty Halloween in New Mexico!
Each year we visit the Land of Enchantment – New Mexico. Fortunately, we have family from Santa Fe, which makes this annual journey very special. And we knew Santa Fe would be the perfect place to spend Halloween in 2015 with haunted happenings and miraculous sites.
While we continue to have great success taking big international trips in luxury at an 85% discount, we also have many weekend travel successes that are equally important and rewarding. So let me tell you about one of our weekend success which exemplifies how loyalty becomes luxury without breaking the bank. It's spooky how easy it can be!
To begin, we flew direct from Seattle to Albuquerque on Alaska Airlines and paid $123 each for our tickets. We were both upgraded to First Class by using MileagePlan upgrade certificates, an Alaska Airlines MVP Gold perk.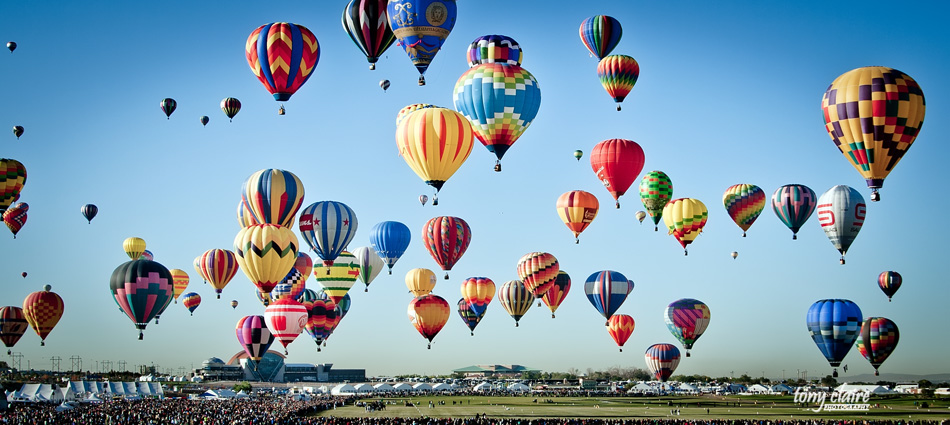 Upon arrival in ABQ, we rented from National Car Rental during their fantastic One Two Free promotion, which runs annually from August through January. As a result, this rental got us halfway to a FREE rental day and we also enjoyed $20 off a three-day weekend rental, which is an ongoing National offer. Our total cost for our three-day weekend car rental was only $53 including all taxes and fees and because we have Emerald Club Executive Elite status, we always enjoy a new and very comfortable ride!

After a long day, we enjoyed a FREE night at the Hyatt Regency Albuquerque for only 5,000 Gold Passport points, which as a fantastic deal and enjoyed FREE breakfast as a reward for having Diamond Elite status with Hyatt.

After a wonderful night with family we headed up to Sante Fe the following morning.
As a result of a Travelzoo deal we were able to stay and save BIG at one of our favorite hotels in Santa Fe – the wonderful Inn and Spa at Loretto. Our room cost was only $115 per night, a significant savings over the normal rates. Our balcony room overlooking the courtyard and fall foliage made us envision luminarias and the first snow. While we could have picked a Hyatt or Starwood hotel for our stay (I am loyal to both), I'm a big believer that if you love a hotel, indulge. Go ahead and book your favorite hotels whether you earn points or not but shop to find a deal if possible, like the one we got through Travelzoo.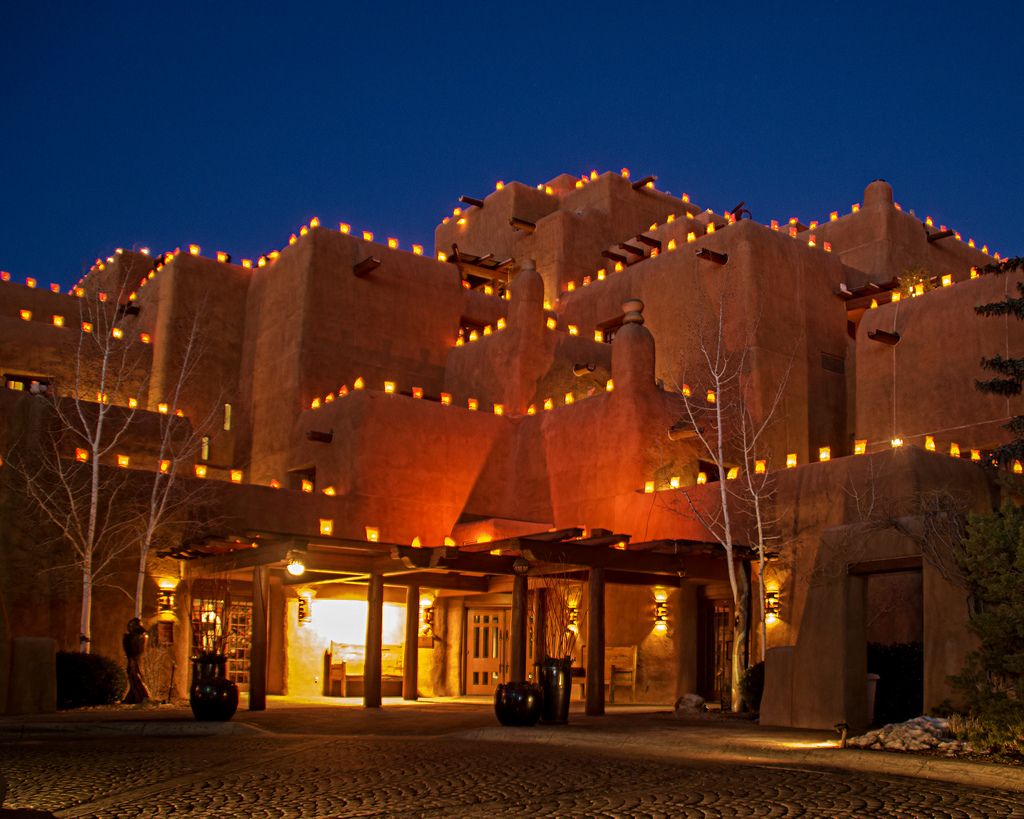 The Inn is adjacent to the Loretto Chapel, a church that dates back to 1878 with its "miraculous" spiral staircase. The Sisters of Loretto were brought out from Kentucky to start the Academy of Our Lady of Light (Loretto) in 1852. Because it was a school for girls and ladders to the choir balcony were dangerous, the nuns prayed to Saint Joseph, a carpenter and the patron saint of workers, for a solution. It's said that their prayers were answered and a "miraculous" spiral staircase was constructed by a mysterious traveling carpenter. The stairway is made of spruce with no nails or supports and has two 360-degree turns!
The academy operated until 1975 when the Inn and Spa at Loretto was built on the academy's original location. And Sister George, one of the Sisters of Loretto, is said to haunt the Inn. Tales of office machines and lights turning on and off accompanied by the faint smell of a cigar throughout the Inn are common. Sister George was known to have loved cigars! You can even enjoy a drink called the Smoking Nun at the bar.
With my husband dressed in Dia de Muertos splendor and me in my most devilish attire, we started our Halloween festivities with drink at the Living Room Bar at Loretto, but unfortunately didn't enjoy a visit from Sister George. Although it's possible that after a few margaritas we just didn't notice! Dia de los Muertos (Day of the Dead) is a special holiday in Santa Fe with ofrendas and sugar skulls on almost every corner.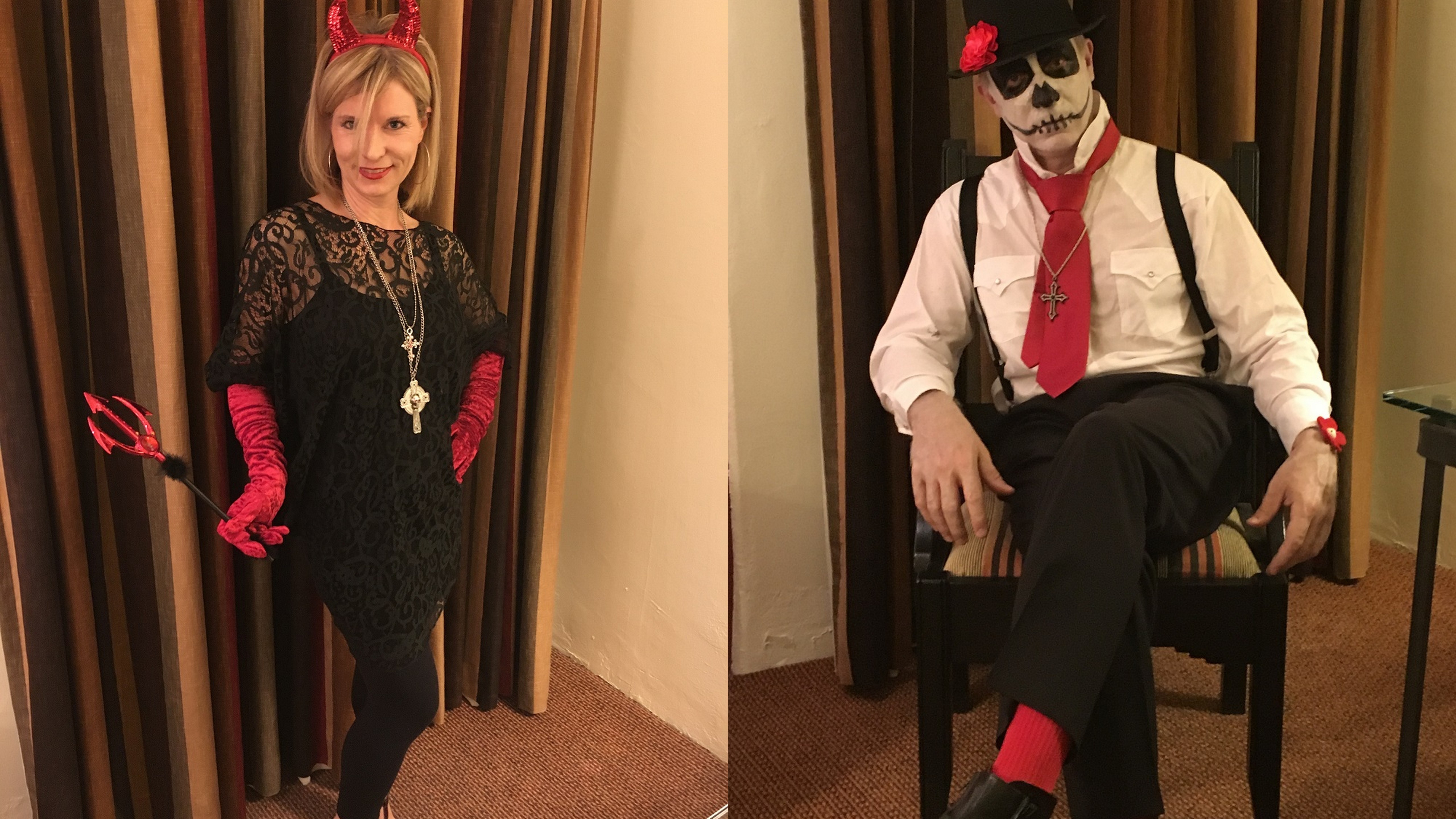 Next we moved on to the historic La Fonda Hotel built in 1922. It's said that many inns were built on that same site dating all the way back to 1607. Local tales claim court was held and criminals hanged in the lobby of the inn. In 1867, the Honorable John P. Slough, Chief Justice of the Territorial Supreme Court, was shot to death in the lobby and between then and 1900 a traveling salesman lost his company's money in a card game and leaped to his death in a deep well just outside the hotel.
Many believe the Honorable Judge Slough walks the halls of the hotel and the salesman haunts La Fonda's restaurant La Plazuela, built over the old well. Right next store to this haunted restaurant we enjoyed a few more Halloween cocktails at the La Fiesta Lounge. Unfortunately, we didn't see either ghost, but we did enjoy great music and some revelrous dancing!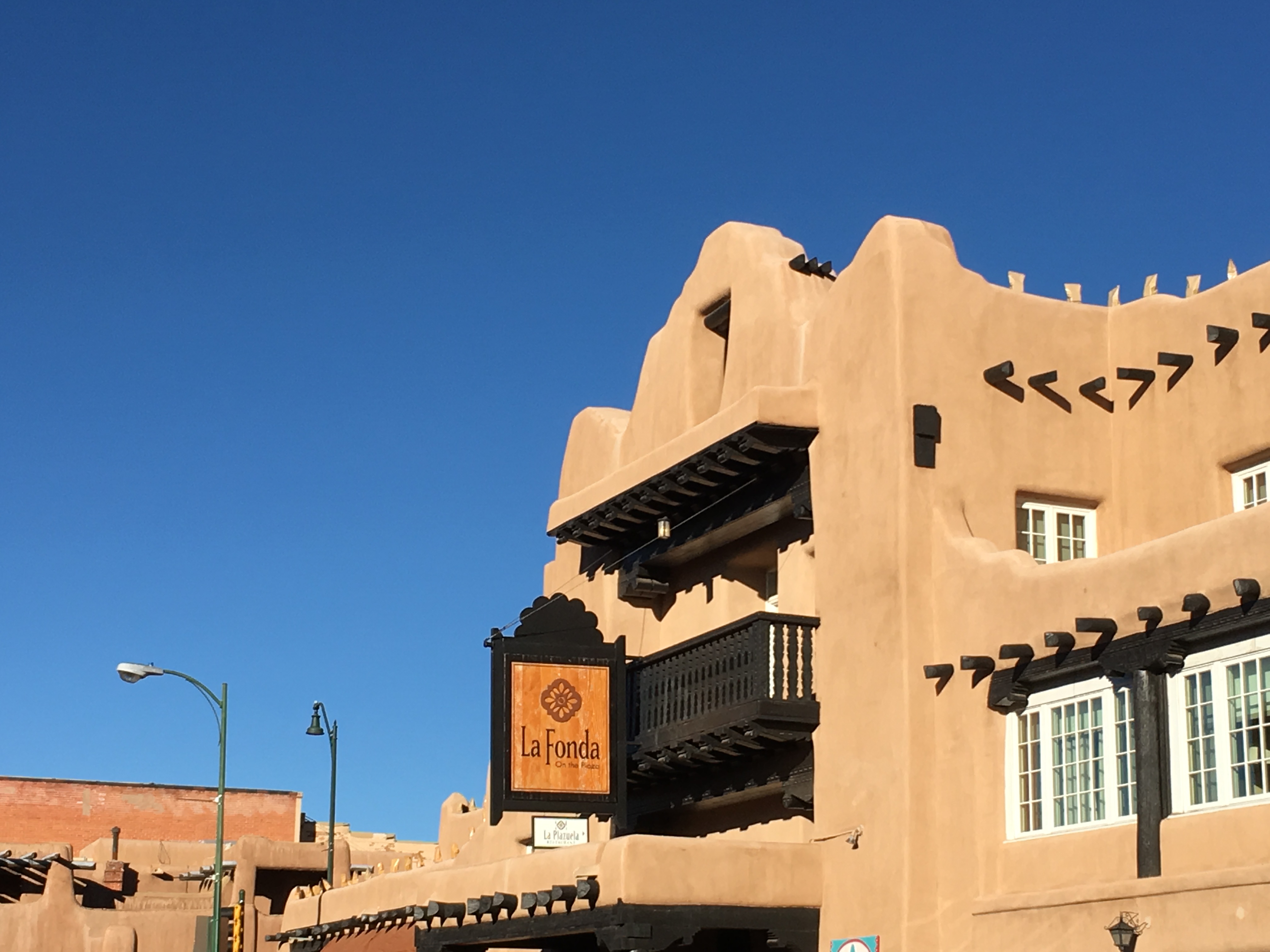 Santa Fe was founded in 1610 by the Spanish, fell under under Mexico's rule from 1821-1846 and then ceded to the US in 1848. The Palace of Governors, built in the 17th century, is the oldest government building in the US and is now a museum with Native American artisans selling jewelry and pottery around the board-walked perimeter. And the beautiful Cathedral Basilica of Saint Francis, one of Santa Fe's most photographed sites, was founded in 1869.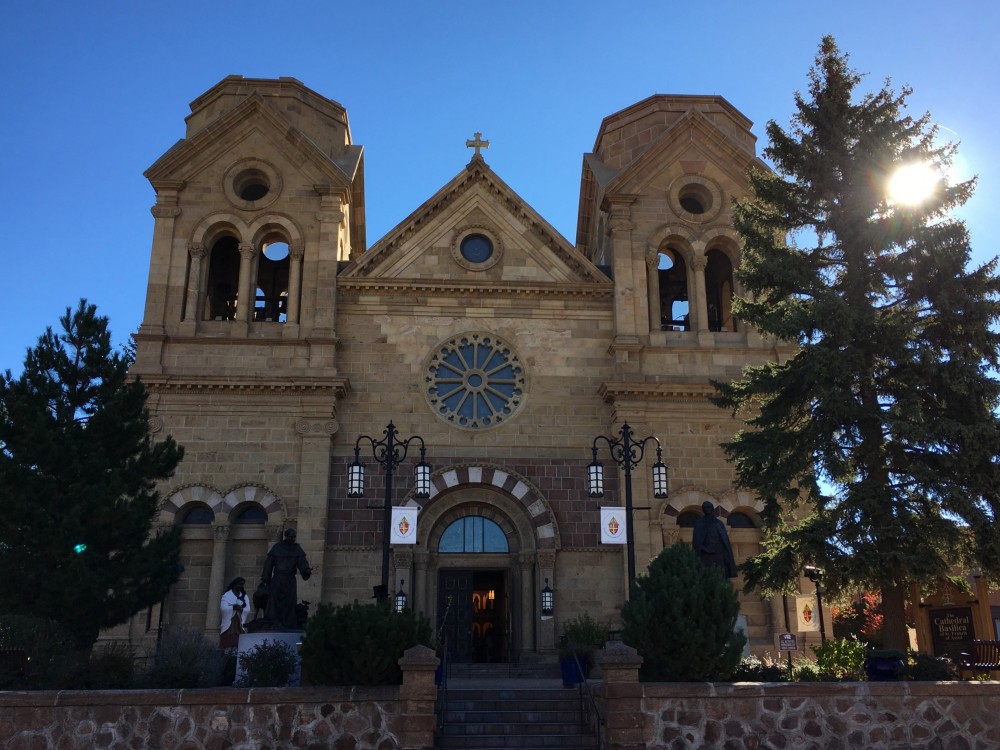 We suggest using local resources like TOURISM Santa Fe, the official travel site for Santa Fe, and SantaFeSelection.com – Travel Guide & Concierge to leverage Maria Johnson's deep local experience to secure the best lodging, restaurants, museums, shopping, site seeing, spas, tours, etc. personalized just for you. You'll enjoy special insider discounts and will make the most of your time by visiting Santa Fe like a local. We enjoyed a richer experience during our visit as a result of the restaurant, shopping and site seeing tips we found on these sites.
Santa Fe with its southwest style, rich history, wonderful hotels and fabulous dining is also famous for its thriving arts community. The city contends that world famous Canyon Road has more art galleries in one square mile than any place in the world. Rock, paper, scissors anyone?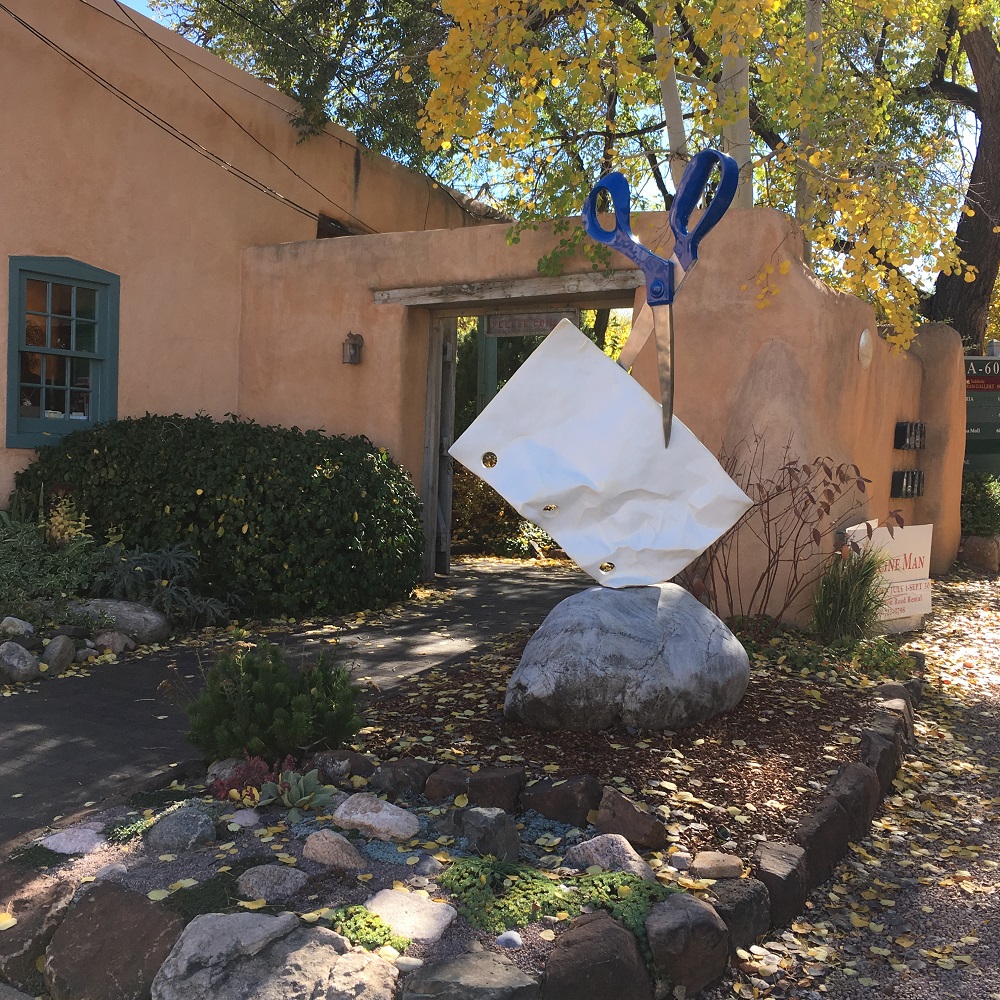 While heading from Santa Fe down to Tucson, AZ, to visit my father-in-law, we made a detour to see White Sands National Monument. It's more than a bit unnerving to look around after hiking for a while, everything is so white and it's easy to lose your direction, which is exactly what happened to me! What a fascinating place, you almost feel like you are surrounded by snow and many visitors bring their sleighs!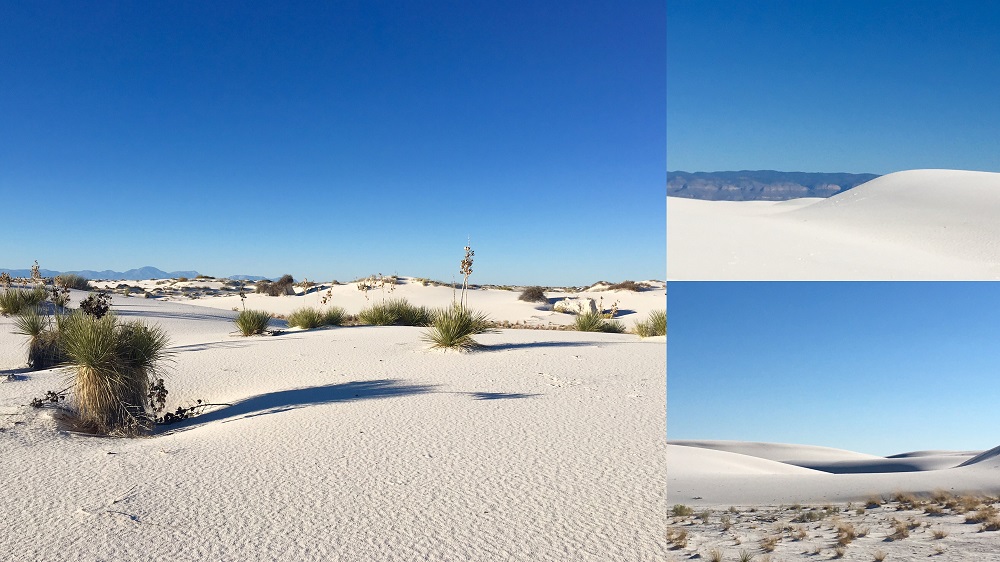 We flew home from our wonderful, short getaway on an Alaska Airlines direct flight from Tucson to Seattle. We paid $146 for each of the tickets and received a complimentary upgrade to First Class for our flight home.
As we always say, loyalty really pays and sure does open a world of travel and luxurious perks for much less and often for FREE!
We hope you enjoyed our weekend Luxury for Loyalty success story, which is consistent with most of our long weekends away. Go ahead and sign-up for complimentary email alerts so we can help you do the same!
Happy Loyalty, Happy Travels!

This post may contain links to products we have the potential to receive a small advertising compensation for. For more information, see our Advertising Policy.
PLEASE SHARE: