Top 5 Wi-Fi Safety Tips While Traveling
With the need to access email, maps, travel destination reviews, Google Translate and other top traveler tools – along with the significant expense of most international data packages – most of us can't imagine traveling without access to a low-cost or free Wi-Fi connection. And Wi-Fi is nearly everywhere these days. But, be wary!
Skycure, a leading provider of proactive mobile threat defense, recently released a study disclosing the 2015 Best & Worst Tourist Attractions for Mobile Security, making it clear that many travelers need a strong reminder to be more cautious regarding Wi-Fi access while traveling.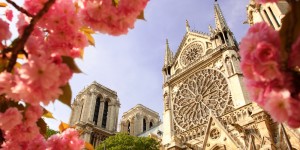 Skycure's study focused on the world's most visited tourist attractions as defined by Travel & Leisure.
Interestingly, the study disclosed:
Android devices have double the likelihood of a network exposure security issue than do Apple's iOS devices
Mobile devices are 25% more likely to expose personal and corporate data than non-mobile (e.g. PC) devices
8% of the total reported threats originated from a Wi-Fi network with "Free" in the name
Two of the most serious, frequent and hard to detect attacks over Wi-Fi involve:
SSL Decryption,

which allows cyber criminals to capture personal and work information (such as logins and passwords for credit cards, mobile banking and work credentials)
SSL Stripping,

which allows attackers to downgrade secure URLs thereby making them vulnerable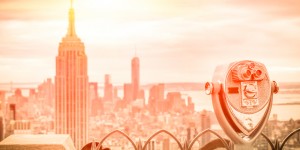 And here is a list of the top 15 tourist attractions with the highest mobile security risks:
Times Square, New York City, NY

Notre Dame Cathedral, Paris, France

Disneyland Paris, Marne-la-Vallee, France

Golden Gate Park, San Francisco, CA

Ocean Park, Hong Kong

Las Vegas Strip, Las Vegas, NV

Hollywood Walk of Fame, Hollywood, CA

Union Station, Washington, D.C.

Faneuil Hall Marketplace, Boston, MA

Disneyland Park, Anaheim, CA

Navy Pier, Chicago, IL

St. Peter's Basilica, Vatican City

Grand Palace, Bangkok, Thailand

Disney World's Magic Kingdom, Orlando, FL

Pike Place Market, Seattle, WA
Here is a great Infographic from the Skycure report: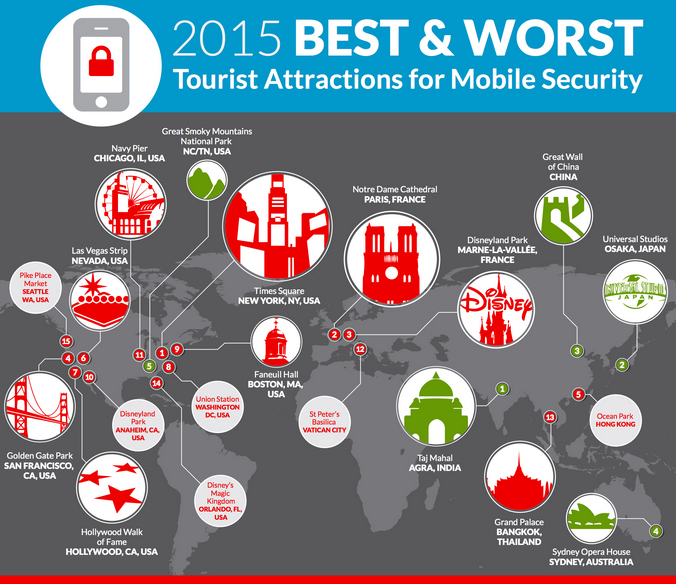 So, remember these Top 5 safety tips when using Wi-Fi on a mobile device while traveling:
Avoid

Free

Wi-Fi

networks

Read the warnings that pop up on your device and the terms and conditions of the Wi-Fi network and

don't click continue

if you don't understand the terms or exposure

Disconnect immediately from the network if you receive a warning or your phone acts abnormally

Keep your device updated with the most current operating system

If you travel often with the need to connect to unsecure Wi-Fi, protect your device with a mobile security app like 

Skycure
The Wrap-Up:
Most of us are quite dependent on our smartphones and other mobile devices and therefore free or low-cost Wi-Fi is very tempting. Now the next time you travel to tourist hot spots like NYC's Times Square, Disneyland or Notre Dame in Paris you'll know how to better protect your mobile devices from security threats.
We hope these tips encourage you to be more cautious and protect your personal information and other data while traveling. Because who wants to ruin a wonderful vacation worrying about the loss of personal and financial information to a cyber-criminal!
Go ahead and sign-up for complimentary email alerts so you never again miss an important TRVLVIP Perk, Tip or Blog post!
Dreaming is fun but make that next trip happen!
Happy Loyalty, Happy Travels!

SHARE: