The Best Uber Secrets For Those on the Move
If you are new to Uber or just want to learn more, you'll enjoy this informative overview, several GREAT surge pricing tips and you'll learn how to check your passenger rating!
Arrive in VIP style everywhere you go! Uber provides plenty of convenience and swank rides for those who love luxury! And, for a limited time, new Uber customers will save $15 on your first ride! Read on to find out how!
Uber is a convenient, well-known car service that offers transportation in over 65 countries and most US cities! That's right – don't forget about Uber when you're traveling in both the US and internationally. Uber can be a very welcome comfort in some far away places! In fact, we recently used Uber in Mexico City. We were a bit nervous hailing a cab in an unfamiliar part of the city and it was a great comfort having a nice Uber car pull up.
With Uber, there's no need to call a dispatcher, hail a taxi on the street or worry about scrambling for your cash or credit card. The tip is already included. Simply request your ride with the push of a button and track your driver's progress to your location right on your mobile phone! With Uber you also enjoy:
Your choice of an uberX, taxi, black car, SUV or Luxury car (LUX) in most cities and a few more car types in some of the bigger cities
uberX has very competitive pricing, often equal to or less than the cost of a local taxi
Clear pricing and the ability to obtain a simple fare quote in advance
Notification of your driver's name and photograph, type of car, plate number and driver rating
Notification to your mobile phone when your driver arrives so you can wait comfortably indoors (be sure to provide your driver your exact address or a convenient and safe address for your pick up and be ready to go as soon as your driver arrives)
Easy, cashless pay and go since your credit card information is already on file AND the tip is built into the price – so you just step out of the car without hassling with the payment and tip (some say that the tip portion Uber provides to drivers is lower than the average taxi tip so feel free to tip your driver extra if you enjoyed the service)
The ability to split your fare if you are sharing your ride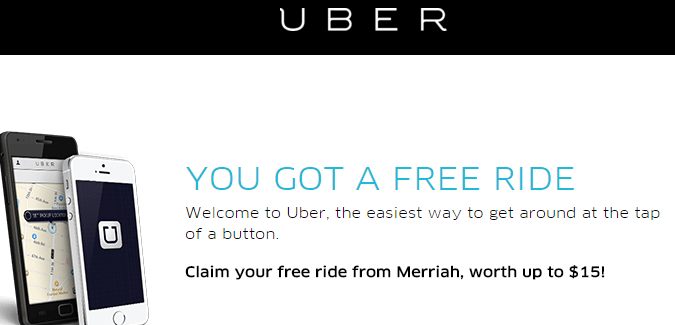 We love the convenience and style of Uber! And for a limited time we are very pleased to provide you with a special TRVLVIP link so you can sign up as a new Uber customer and save $15 on your first ride! We will also enjoy an Uber credit, which we greatly appreciate!
Two Bonus TRVLVIP Tips:
Passenger Rating:
Do you know how to check your passenger rating? Your rating could determine whether an Uber driver elects to picks you up or move on to the next customer. And if you're score falls too low you could be banned from using Uber!
To check your rating follow these three simple steps:
1. Open the Uber app on your mobile phone
2. At the top left corner you'll see three grey bars, click that and select "Help" and then "Account"
3. Click on "I'd like to know my rating" and "Submit"
Viola! Now you know your rating!
Surge Pricing:
Occasionally you will receive a "surge pricing" alert before ordering a car. And nobody likes an awful surprise like a large unexpected bill!
Surge pricing generally occurs during very high volume periods (e.g. rush hour, after the bars and restaurants close, and on holidays like Halloween, 4th of July, New Year's Eve, etc.).
Pay very special attention to surge alerts and perform a "fare quote" in advance so you have a clear expectation of price before you order your ride.
And here is our awesome TIP:
Surge pricing is typically specific to car types. For example, the Surge Pricing may only be in effect for an uberX and/or Uber Taxi and NOT for a black car, SUV and/or a LUX car. Therefore, it is still possible to enjoy a much nicer ride for the same price or less than uberX – during the surge! So perform a "fare quote" to know your options!
And a 2015 study conducted at Northeastern University found that the surge can often last less than five minutes. The study involved using 43 Uber accounts over four weeks in Manhattan and San Francisco. The surge periods are often very short and the surge area in big cities can be small (sometimes as small as a few hundred feet in dense cities). So try waiting five minutes or walking a few blocks if you are set on taking uberX before requesting your ride.
And, if you are in a busy city and it is rush hour or after midnight, you may have a very long wait for an uberX or Uber Taxi. But, the wait for a black car, SUV and/or LUX car may be minimal. If you don't mind paying a little more, you'll generally have great options to get a car fast and be on your way!
The Wrap-Up:
Arrive in VIP style everywhere you go! Uber provides plenty of convenience and swank rides for those who love luxury!
And little strategic planning with Uber can really pay off – so sit back, relax and enjoy the first ride with $15 off!
And go ahead and sign-up for complimentary email alerts so you never again miss an important TRVLVIP Perk, Tip and Blog post!
Happy Loyalty, Happy Travels!

PLEASE SHARE: