Have a US Bank FlexPerks Travel Rewards Visa? FREE Gogo Inflight Internet is yours!
FlexPerks Visa card members enjoy excellent flight perks and also qualify for a new and little known benefit – 12 free In-Flight Wifi passes to use on Gogo-equipped flights in the US and Canada each year!
Simply add your FlexPerks Visa credit card number on the registration page and you are good to go! Each pass is good for unlimited Internet access on one flight segment on these airlines:

In order to be eligible, you must have made at least one purchase (purchase minus credits and returns) in the past 12 months prior to registering and the card must be active and not overdue.
While we do not receive compensation from US Bank to highlight this card, we think it is a great card to earn points toward free flights.
Here are a few of the additional benefits you will enjoy:

Enjoy frequent flyer miles and a $25 Airline Allowance

 on award tickets booked with FlexPoints to be used toward baggage fees or in-flight food and drinks 
3,500 bonus FlexPoints

 each year you spend $24,000 in net purchases
The best way to use FlexPoints:
US Bank FlexPerks points can be used for a variety of rewards but we suggest you only use them for flights. You can use them for gift cards but you'll get a terrible exchange value.
On flights you'll realize anywhere from 1.33 to 2 cents per FlexPerks point. You get the most value the closer you get to the maximum allowable airline ticket price (e.g. for 30,000 points an award ticket with a retail price of $600 yields 2 cents per point and a $401 ticket yields 1.33 cents per point).
Flight awards can be booked on 150 airlines. Here is the travel reward chart: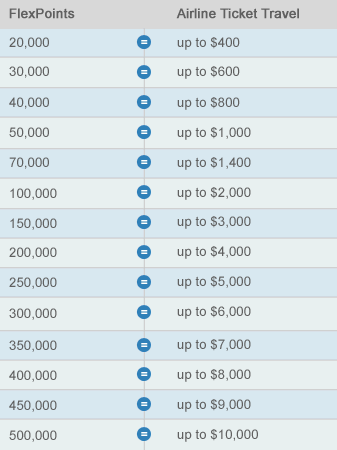 The Wrap-Up:
If you have a US Bank FlexPerks Visa be sure to save your points for flights! And fully enjoy your 12 free Gogo Inflight Internet passes each year!
And go ahead and sign-up for complimentary email alerts so you never again miss an important TRVLVIP Perk,  Tip and Blog post!
Dreaming is fun but make that next trip happen!
Happy Loyalty, Happy Travels!

PLEASE SHARE: