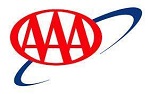 Gain Peace of Mind with AAA/CAA and Enjoy Great Hotel and Car Perks!
July 2017
We greatly appreciate when you click on any of our hotel links or ads and book a stay directly on our travel partners' websites where you'll enjoy the best rates!
While AAA can provide peace of mind when it comes to a breakdown of your car, it also offers many discounts with those travel companies to which you are loyal.
In most cases, if you are able to take advantage of AAA's hotel and other discounts and/or the Hertz free rental day promotion, you can more than pay for your AAA investment on an annual basis.
Here are just a few examples:
At many hotels, the AAA rate is usually close to or equal to the advanced-purchase rate, which is usually non-refundable. With AAA you typically have the flexibility to change or cancel that reservation close to the day of your stay. You can usually save up to 10% to 20%. Some AAA rates even include breakfast and/or late check-out. Review the details thoroughly - each property and rate may have special conditions - but this can be great way to add a lot of flexibility and save money on your hotel stays. Just choose the AAA rate when booking.
You also receive other travel and shopping discounts! Each AAA

is regional so some of the other discounts and terms will vary but the discounts are usually between 15% to 20%.
You receive complimentary Hertz discounts, a Hertz Gold Plus Membership and enough points for 1 to 2 free-weekend days. Those AAA members with a Gold enrollment date on or after February 1, 2012 will qualify for 675-1100 Bonus Points. See other terms and conditions and enroll.
The Wrap-Up:
With AAA, you gain peace of mind when it comes to your personal cars and you also enjoy some great travel benefits and discounts, that can far exceed the annual cost of the membership.
If this Tip helped you, please leave a nice note for us on Facebook and Twitter and share it with your friends!
And if you haven't already, sign up for FREE travel updates so you never miss an important trvlvip Perk or Tip about the airline, hotel or car loyalty programs you care about the most!
We greatly appreciate when you click on any of our links or ads and book a stay directly on the travel partner's website where you will enjoy the best price! We have the potential to receive compensation at no cost to you, which allows us to provide our helpful travel updates and advice to you FREE of charge! For more information see our Advertising Policy. Many thanks!