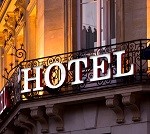 Being a Bit More Strategic Can Lead to Great Benefits!
January 2015
I recently participated in a promotion that allowed me to earn 1 free night at ANY level Hyatt property in return for staying just 2 nights at ANY level Hyatt property. Let's say that again... Essentially, you could stay at a Hyatt Place (most are level 2) twice and earn a free night at a level 7 hotel (Hyatt currently has only a handful of level 7 hotels in the entire world - they are Hyatt's highest level Luxury properties). I immediately registered for this promotion and re-booked all my upcoming work travel at level 2, 3 and 4 category Hyatt properties. And a few months later I spent 4 glorious nights at one of Hyatt's premier level 7 properties (the Park Hyatt Vendome in Paris) - for FREE.
I also recently participated in the Marriott properties promotion which rewarded 1 free night for every 3 stays. But those reward nights can only be redeemed for hotels in categories 1-4 (not their Luxury levels). Therefore, I didn't go out of my way to stay in a bunch of Marriott's during the promotion, but since they are one of the brands I am Loyal to I did stay 3 times during the promotional period for business travel. I'm sure I will have the opportunity to enjoy a free night on Marriott in a category 1-4 property.
We make a point of alerting our members to the quirks of each of these types of promotions for the specific programs to which they are Loyal - so they can make a personal choice of whether the promotion is worth their time or not. Also, it is often difficult on some hotel websites to find where a reward night is stored. That makes it quite easy to forget about them and risk expiration before use! We will remind you where to look. And we provide information on the expiration date of both the promotional period and how long the reward can be used. It's just a few of the benefits we provide to save you time and make things easier for you.
It's a great Tip worth sharing!