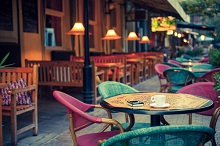 Dining is One of the Easiest Ways to Earn Hotel Reward Points!
June 2015
With over 11,000 restaurants to choose from and regular bonus offers, it's easy to earn hotel reward points with Hilton HHonors and IHG Rewards Club! Unfortunately Hyatt, Marriott and Starwood do not have dining programs at this time.
Simply sign-up, register the credit cards you use most often and dine at participating restaurants. You will earn hotel reward points when you dine-in, take-out or order delivery. And you even earn points on the tax and tip!
The three earning levels and how to qualify:
Elite – 8 bonus points for each dollar spent

Elect to receive emails

Complete 12 or more qualified dining transactions in the calendar year

Online Member – 5 bonus points for each dollar spent

Member – 1 IHG bonus point for each dollar spent and 2 Hilton bonus points for each dollar spent

Elect not to receive program emails
Sign-up bonuses are common and generally range from 500-3,500 bonus points. The typical steps to qualify include:
Register for the dining program prior to the expiration date of the bonus offer (you must opt-in to receive emails)

Within 30 days of registration, dine at a participating restaurant, bar or nightclub, spend at least $30 including tax and tip and complete a review of the dining experience within 30 days of dining (you will receive an email link)
When bonus offers expire they are generally extended - We've listed the typical bonus offers below. Click each of the links to review the current bonuses (which may be better than those listed below), as well as the expiration dates:
Hilton HHonors Dining – Register, dine and then review within 30 days to earn up to 2,000 bonus points - complete the 1st dine for 1,000, the 2nd for 500 and the 3rd for 500 bonus points

IHG Rewards Club – Register, complete your first dine within 30 days of signing up and complete the review within 30 days of dining for 1,000 bonus points
Bonus TRVVIP Tip:
Given the choice between earning airline miles or hotel points from these dining programs, we generally believe the airline programs have better earning potential.
Airline reward miles are typically worth two to four times what we believe a Hilton HHonors point (0.5 cents) or an IHG Rewards Club point (0.7 cents) are worth. To learn about how TRVLVIP values the miles and points across the loyalty programs, see our great Tip on the topic.
The airline dining programs earn fewer reward credits than do the hotel programs at the Elite and Member dining levels, but because of the much higher value of those earned airline miles, it's a better earning opportunity. Because all of these programs are managed by the same company, you can only pick one program per credit card - so choose wisely.
If you are loyal to Alaska, American, Delta or United, we suggest joining their dining programs instead of the Hilton or IHG programs. If you aren't loyal to an airline, you will still enjoy great rewards with one of the hotel dining programs so sign-up today!
The Wrap-Up:
Get out there and dine! With over 11,000 restaurants on the list, dining is one of the easiest ways to earn hotel reward points or airline reward miles! Simply register the credit cards you use most often to dine and chow your way toward great rewards!
Like it? Share it! And sign-up for complimentary email alerts so you never again miss important Perks and Tips on the programs you care about most!